Browsing articles tagged with " gold updates"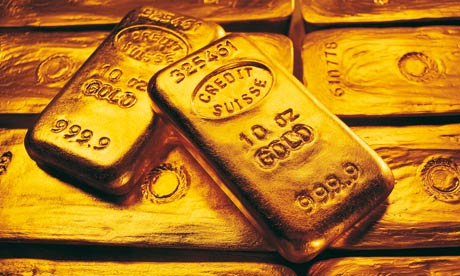 Gold today has again set a new record. MCX Gold achieved 31,524 Rupees per 10 grams new record price level. In the spot market price of gold has gone beyond Rs 31,850. At Comex the gold set the $ 1,698 per ounce level, which is the highest level in 6 months.
However, in today's trading due to weakening of the euro against the dollar, gold seems sluggish. Also on Tuesday, the U.S. economic figures were even worse that put the pressure on gold. In August, the U.S. manufacturing figures are the lowest in 3 years.
But despite the rapid market analysts believe that gold should be included in your portfolio.
The silver is approaching record levels of 7 months. Although the dollar rally was stopped because silver is currently booming. Currently, with a decline of 0.2 per cent on MCX silver is trading at Rs 60 475. MCX Copper fluctuation seems. Even in base metals on MCX have gained 0.1-0.5 percent.
MCX Gold & Silver Updates:-
A slack has been observed in the gold in the international market while silver is trading with a fall. Gold at Comex is at $ 1614. Comex silver is trading at $27 with a decline of around .25%. The gold at multi commodity exchange closed at 29,752 on Tuesday after a light fall. While the mcx silver closed at 53,960 after a down fall of .25%.
MCX Crude oil closed at 4919 declined by 1.20% from it's previous close. MCX crude oil before the closing was trading on higher nodes at above the 5000 level. MCX Copper closed at 422 in the domestic market on Tuesday.
To get huge profits in gold and silver investment in the commodity market we recommend following commodity Tips for Today.
Gold prices may witness profit booking to the tune of 30030 – 30000, one can buy on dips with a stop loss below 29900.
Silver prices witnessed profit booking from higher levels, one can buy on dips around 53500 -53300.
Crude prices are expected to trade within the range from 4850 to 4950 one can witness selling pressure to continue till 4850.
MCX Gold contract of August month is trading in the range 29,150 – 29252. The support for mcx gold august is most likely to seen in the range 29,223 which may slip to touch the below level of 29,150 & Resistance is likey to be seen at 29,225 & can touch above level of 29,252. We advocate to short thr MCX Gold August contract at 29280, having stop loss of 29340, & target of 29150.
Since last couple of weeks the luminosity of trading of precious metal gold is decreasing consistently in the bullion market. Traders are expecting that the investors will back out from the gold investment. They are most likely to go for the currency investment.If we see the global trend of the gold has been on decreasing trend then too the gold trend in India could not touch the such low levels. Earlier in 1999 the gold fell for the first time on the global cues. According to the market experts the global economic conditions are quite responsible for this situation.
On other hand the Indian government's change in the import policy also affected the gold trading in the market. According to official facts the import of precious metal gold decreased by 37% in the first quarter of this current financial year.This condition of gold was not only in the domestic market but the overseas market too.
MCX NCDEX Trading and Investment Tips and Strategies for Thursday 07 June 2012
The prices of gold in the international market has touched a high of around 15 US dollars. In India the live/current price of gold is ion record level of 30,300. The silver also crossed the level of 55,000 today.
MCX Gold – Sell below 30200, Stop loss 30280, Target 30130
MCX Silver Sell below 55580, Stop loss 55800, Target 55300
MCX Copper Sell below 411.50, Stop loss 413.50, Target 409.50.
MCX Lead Sell below 106.50, Stop loss 107, Target 106.
MCX Zinc Sell below 105, Stop loss 105.50, Target 104.50
MCX Natural Gas Buy above 136, Stop loss 134.50, Target 137.50
MCX Nickel Sell below 901, Stop loss 907, Target 895.